Racism and Its Effect on Society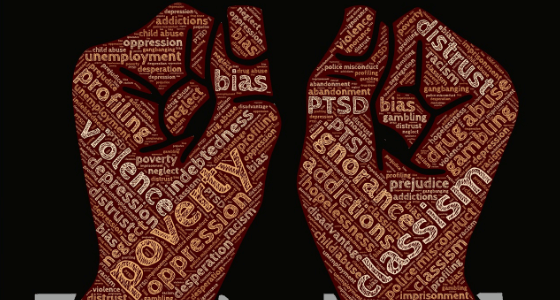 Racism is not a new phenomenon, however in today's modern world which claims to be enlightened in so many ways, it can come as a surprise that it still exists and even thrives within some communities. While many people are happy to embrace diversity and appreciate the differences between those of different religions and colours, there are many others who see those of other races as a threat and the effect of this intolerance on our society can have far reaching consequences. While racism on a personal level can cause disruption through offensive comments, poor attitudes and occasionally violent outbursts, when it happens on a governmental scale there can be major consequences. When racial discrimination occurs at a national level, we see atrocities such as ethnic cleansing, persecution, discrimination through the judicial system and detrimental segregation laws. There is no denying that racism can be devastating to the culture and well-being of a country, causing economic and moral upheaval. If hatred is allowed to thrive within a society, its negative effects stretch through every part of everyday life.
The Signs of Racism in Communities
While we like to think of ourselves as an advanced and forward thinking society, in fact there are still many areas where racism is rife. Within these communities, we see the telltale signs of modern racism. Families of a certain colour or racial group living in poverty and poor conditions, unable to rise out of their disadvantaged state through the prejudice of employers which keeps them in low-paid positions. We see large numbers of certain ethnic groups being unfairly pursued by the justice system and given harsher sentences for their crimes, or even convictions for crimes that have not been committed. We even see discrimination in the education system, with those from certain backgrounds being unable to gain access to the best schools and therefore unable to gain the right qualifications that they need to advance and progress into high level jobs.
What Happens if Racism Thrives?
A country with a racist mentality does not allow all of its citizens to contribute collectively to the nation, thus limiting its success and development. If an entire class of people cannot enjoy the same privileges as the rest of society, they lack the educational and employment opportunities that would enable them to contribute to the overall economic well-being of their country, through essential sectors such as medicine, economics or technology. Also, by limiting one race's ability to participate fully in the culture of the country, the people as a whole are unable to appreciate and understand similarities and differences between them, leading to social stagnation and ongoing persistence of racism through future generations. On a more serious level, if racism is allowed to thrive within society as a whole, eventually this will lead to aggression and even violence, either on a local or even national scale. If bad feeling is allowed to build up between community groups, over time this is sure to result first in low level negativity, from name calling and isolated incidents, and potentially on into full scale conflict. Fighting, rioting and even warfare can be the result of racial prejudice and intolerance.
The Effect of Racism on the Individual
Individuals who experience racism in their everyday life find that they become very limited. Fear can become an everyday occurrence with low self-esteem being a common side-effect. When someone faces harassment and persecution regularly throughout their life, they naturally come to view themselves as less worthy than they truly are and this can only perpetuate the cycle of oppression. Those who place little value on themselves will never strive to attain more, and it is this problem that results in whole generations of families becoming trapped in disadvantaged situations. It is also common for individuals who consistently deal with racism to become aggressive and resentful, turning to criminal behaviour in an attempt to fight back against the injustice. This too only serves to perpetuate the cycle of disadvantage.
How to Deal With Racism?
No matter how much a society tries to separate the different races within it, it is important to realise that, in the end, people of all colours and religions must interact at some level. The key, therefore, to encouraging development and a happy, peaceful future is to learn to develop tolerance and understanding for those who are different to ourselves. By encouraging fellowship and participation between diverse communities, we regain our morality and forge new ways forward into a positive way of life where all members of society regardless of their race can be valued and make a difference for the better. Society as a whole must promote integration between its different communities, starting with the youngest members of the community in order to raise a new generation of tolerant individuals who embrace diversity and value all members of society equally.